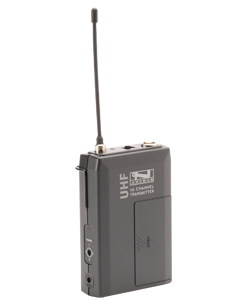 WB-8000 | Wireless belt pack transmitter (540 - 570 MHz)
The WB-8000 is a wireless belt pack transmitter with a TA4F connector plug. With a 150' wireless range, it operates on the 540 - 570 MHz frequency range and has 16 user-selectable wireless channels. The WB-8000 is powered by two AA batteries and operates approximately 6 - 8 hours with fresh batteries. Use the belt pack with the Anchor Audio 8000 and F1+ series with built-in wireless receivers. 

For a handsfree, wireless experience, the WB-8000 can be used with microphone elements such as the:
HBM-TA4F
CM-60
EM-TA4F
LM-60
Don't have a mic element with a TA4F connector? We recommend the following adapters:
6000-18PS - TA4F to 3.5 mm stereo

6000-18P 

- TA4F to 3.5 mm mono

6000-14P 

- TA4F to 1/4"

6000-XLR 

- TA4F to XLR
The WB-8000 has a two year warranty.